Floyd Mayweather responds to report suggesting he would fight Conor McGregor
15.02.2017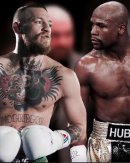 FLOYD Mayweather has responded to a report he had agreed to fight Conor McGregor by insisting no deal has been made and he's happily retired.
The former pound-for-pound boxing champion released a statement on Wednesday after a UK newspaper reported details of a mooted megafight against the UFC superstar.
"There seems to be several rumours floating around media recently however, let the record show, there hasn't been any deals made in regards to a fight between myself and any other fighters," wrote Mayweather, a message posted to Twitter.
"I am happily retired and enjoying life at this time. If any changes are to come, be sure that I will be the first to let the world know."
It follows a report in the Irish Sun which indicated the pair had agreed to terms after a representative from McGregor's camp met Mayweather representatives in recent days.
The news came after McGregor cancelled a fan event in Ireland over the weekend, sighting a last minute schedule change that would require the UFC champion to head to Las Vegas.
McGregor's sudden switch saw the rumour mill again go into overdrive — however it seems this time there's been significant progress.
A source close to the McGregor camp reportedly told the Irish Sun the deal for what would be the biggest fight in history has been struck.
"The contract hasn't officially been signed yet because of a third party holdup but all details have been agreed on," the source said. "The fight could even be announced within two weeks."
Mayweather's statement contrasts with what he reportedly told ESPN's Stephen A Smith earlier on Wednesday. "We're getting very, very close," the 39-year-old Mayweather told Smith.
While Mayweather is optimistic, he says nothing is guaranteed until contracts are signed. No timetable was given for the prospective boxing match.
"Real people are having real discussions," Nevada State Athletic Commission chairman Anthony Marnell told ESPN on Tuesday, "I'm also telling you my opinion as the NSAC chairman that a lot of things need to get done in order to see something like this come together because there are so many parties that want to get their hands on the pot.
"Maybe it will get figured out, but it's going to be hard when everyone is declaring they want $US100 million ($A131 million)."
Mayweather, a former five-division boxing champion who retired undefeated at 49-0 in 2015, said in January he believed the fight could happen after McGregor said he was determined to fight him.
The 28-year-old McGregor, the reigning UFC Lightweight Champion, obtained his California boxing licence in December.
UFC president Dana White offered McGregor and Mayweather a sum of $25 million each in January for a fight. Mayweather scoffed at the offer, saying White was "an (expletive) comedian."
McGregor last competed at UFC 205 last November when he beat Eddie Alvarez for the lightweight title to become the first two-division champion in UFC history. He also held the featherweight title after knocking out Jose Aldo at UFC 200 last July. McGregor was stripped of the featherweight belt in November to focus on the lightweight division.
McGregor, 21-3 in MMA competition, is not scheduled to compete in a UFC event until May to avoid putting unnecessary stress on partner Dee Devlin, who is pregnant with the couple's first child.
McGregor feels that he can make the fight with Mayweather independently, but said in a recent live interview with MMA journalist Ariel Helwani that he hoped all parties could work together to make the fight happen.
"I think it's smoother if we're all involved. I think we're all about good business," McGregor said.
"I've done great business with the UFC, with Dana (White), with everyone. I think it's smoother if everyone just gets together and we get it involved. But again, everyone's got to know their place.
"Nobody is my boss. I know Floyd likes to say Dana (White) is my boss and this and he decides. Hell no. Nobody decides this. If they let people go fight jiu-jitsu tournaments, they can't stop me going to fight a boxing fight. So obviously it's smoother to do it all together, but look, everyone's just got to know their place, and everyone does know their place."
UFC president Dana White poured cold water on that idea just last week, saying McGregor has an iron clad contract and that he intended to hold the UFC lightweight champion to it.
"He's under contract with us. You have a contract for a reason," White told reporters.
"Let me tell you what, there are a lot of contracts out there, no matter what business you are in — UFC or whatever — and it's pretty tough to get out of a contract.
"And if that's what Conor wants to do (fight Mayweather), he's got four fights left. He's got four fights left with the UFC. Fight your four fights and, you know, go out and do what you want to do."
Mayweather has not tasted defeat in 49 professional fights, but McGregor feels he will become the first man to stop the boxing legend.
"I've got the reach. I've got youth. I've got the confidence. I've got the unpredictable style. You can't prepare for a style like me," McGregor said in a recent live stream interview.
"Why conquer one world when you can conquer two? So I'm going to go conquer two worlds."