Dana White Confirms The UFC Is Going To Russia
15.02.2017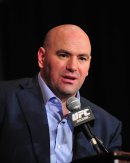 It\'s been talked about for a while now, but finally it appears the wheels are in in motion–the UFC is going to Russia in 2017.
Speaking on ESPN\'s Sports Center yesterday evening, UFC President Dana White was asked what new territory the UFC would be entering this year. The UFC President didn\'t need to pause to contemplate his answer and said it was about time the promotion started reaping the benefits of the UFC starved fans in Russia.
"Russia, Russia" White said without needing to think about it. "We\'re are going to Russia and there are so many UFC fans in Russia it\'s crazy.
"We\'ve been trying to figure this thing out–how to get in there the right way and put on an event and start grooming some of this Russian talent."