KHABIB NURMAGOMEDOV 'I'M MMA'S MAYWEATHER' … And I'd Beat His Ass, Too!
26.01.2017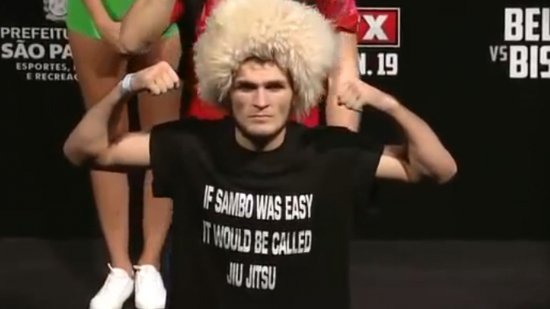 Khabib Nurmagomedov might not have a UFC title yet, but the UFC lightweight contender believes he's well on his way to becoming the Floyd Mayweather of MMA.
TMZ caught up with Nurmagomedov recently to discuss his upcoming bout against Tony Ferguson at UFC 209 and a potential showdown with current lightweight champion Conor McGregor.
"The Eagle" maintains that after he makes quick work of Ferguson, he'll shift his attention to making the world forget about McGregor.
"Conor has to be careful because I'm going to smash Tony Ferguson and after I'm going to smash Conor McGregor," Nurmagomedov said. "I think after this one, people will begin to forget about this guy. But now, everybody talks about him, but it's okay. For me, it's okay."
Nurmagomedov believes consecutive wins over Ferguson and McGregor would not only help him accomplish his goal of becoming UFC champion but would propel him into legendary status. A potential boxing match between McGregor and all-time great Mayweather could delay that a bit but "The Eagle" doesn't care, he just wants the belt.
"I don't care about him, I only want to fight for the title. This is what I want. I don't care about Conor or Floyd Mayweather. Floyd Mayweather is one of the greatest boxers, but I think I am the Floyd Mayweather of MMA. I am 24-0, I can be 26-0 — 10-0 in the UFC — undefeated and undisputed UFC lightweight champion. I want to become the greatest lightweight ever. This is what I want."
Nurmagomedov has a huge task in front of him at UFC 209 as he brings his perfect record and eight-fight win streak into the Octagon against Ferguson, who is also riding an extensive win streak. If he can get past "El Cucuy" and fulfill his promise against McGregor, two of the toughest fighters on the roster, the comparisons to "Money" might be justified.