Floyd Mayweather offered £20million to fight Conor McGregor by UFC boss Dana White
14.01.2017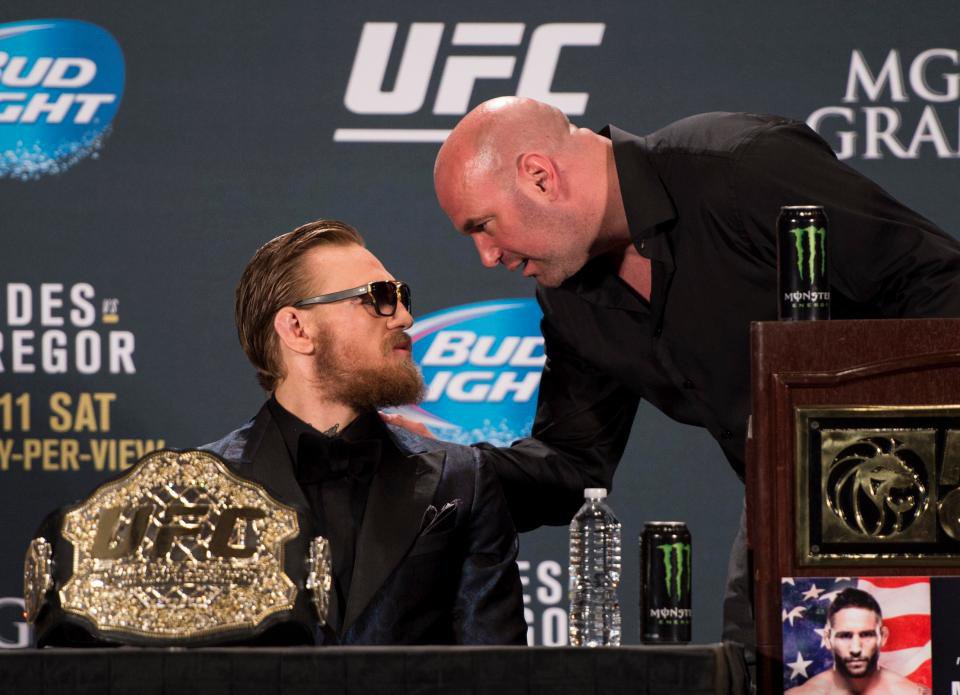 The two-weight champ is out of the octagon for a well-earned break as his partner awaits their first baby but his boss has revealed he is ready to enter negotiations with the Money Man
FLOYD MAYWEATHER has been offered £20.5million to fight MMA superstar Conor McGregor, by UFC boss Dana White.
The warring pair have been going back and forth with insults and offers on social media and in interviews with the 49-0 boxing legend claiming to have offered the Irishman £12m for a fight.
But McGregor – who has got a California boxing licence – reckons a proposed bout should bank him closer to £82m.
The two-weight champ is out of the octagon for a well-earned break as his partner awaits their first baby but his boss has revealed he is ready to enter negotiations with the Money Man.
White told Fox: "I'll tell you what Floyd, here's a real offer and I'm the guy, I'm the guy that can actually make the offer and I'm actually making a real offer.
"We pay you $25 million, we'll pay Conor $25 million and then we'll talk about pay-per-view at a certain number. There's a real offer.
"First of all let's cut the B.S. right from the get go — (Floyd Mayweather) hasn't talked to anybody about this fight.
"You're talking to somebody about the fight, you're talking to me. I'm the promoter. Conor McGregor is under contract to me.
"To say that Conor McGregor hasn't made $8 million or $10 million in a fight, wrong again.
"To think that you're the 'A' side — how are you the 'A' side?"
White slammed Mayweather for the PPV sales he made in his final fight against Andre Berto and compared them to Conor's last two clashes, the rematch with Nate Diaz that he won and the title clash with Eddie Alvarez.
White said: "The last fight, the last major fight you were in, you left such a bad taste in everybody's mouth that nobody wants to see you again.
"His last fight did 350,000 pay-per-view buys. Conor did 1.3 (million for UFC 205) and 1.5 (million for UFC 202) pay-per-view buys.
"So I don't understand how you think you're the 'A' side and there's a reason why you want this Conor McGregor fight so bad — because you know that's your money fight."