MARK HUNT FILES LAWSUIT AGAINST BROCK LESNAR, DANA WHITE AND UFC
11.01.2017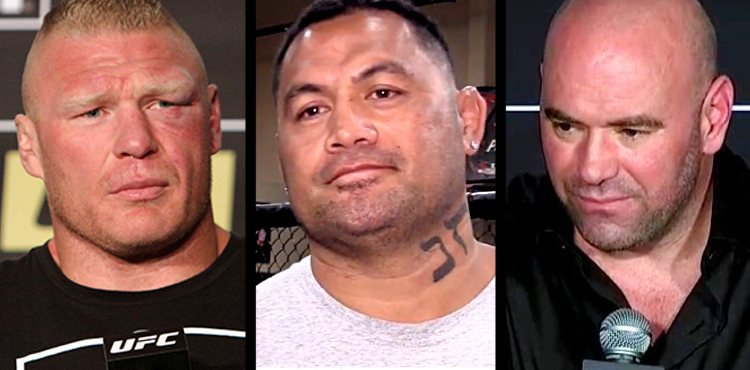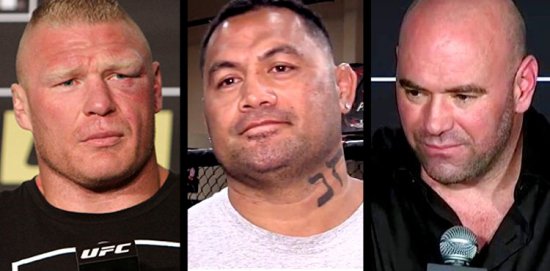 Mark Hunt has filed a civil lawsuit against the UFC, company president Dana White, and WWE Superstar Brock Lesnar.
The suit, as first reported by ESPN.com, was filed on Tuesday in Nevada District Court, alleging the "UFC and its agents have affirmatively circumvented and obstructed fair competition for their own benefit, including being complicit in doping proliferation under the guise of advancing 'the best anti-doping program in all of professional sports.' Defendants have accomplished this by means including but not limited to various and rampant purported use exemptions, drug testing exemptions and by failure to enforce its own policies."
Hunt is accusing the defendants of, among other charges, racketeering, fraud, breech of contract, and unjust enrichment. He is seeking financial relief for damages, legal fees, and the like, but the racketeering charge could trigger treble damages.
The lawsuit stems primarily from Hunt's UFC 200 bout with Lesnar on July 9, 2016. Lesnar initially won the bout via a unanimous decision, but was found to have tested positive for clomiphene, an anti-estrogen substance in a June 28 out-of-competition drug test and again on fight night. Clomiphene, as laid out in the suit, is known as a post cycle therapy substance "believed to be used after a period of strength training with anabolic steroids or similar prohibited substances."
Brock Lesnar – Mark Hunt – Dana WhiteLesnar eventually entered into an adjudication agreement with the Nevada Athletic Commission, agreeing to pay a $250,000 fine and accepting a one-year suspension. The U.S. Anti-Doping Agency, which administers the UFC Anti-Doping Policy, also assessed him a one-year suspension, making him eligible for a possible return on July 15, 2017.
While $250,000 sounds substantial, Hunt points out that Lesnar was paid a disclosed purse of $2.5 million for the fight, and was believed to have also been paid a percentage of pay-per-view buys. That makes the $250,000 figure appear much more negligible. Hunt was paid a disclosed purse of $700,000, and received no benefit from Lesnar's penalties, other than the outcome of the bout being changed to a no contest.
The crux of Hunt's argument centers on the UFC Anti-Doping Policy, which requires retired or inactive fighters from entering the U.S. Anti-Doping Agency testing pool at least four months prior to an athlete's first scheduled competition upon returning to the Octagon.
Lesnar did not do so, even though there are public statements pointing to the idea that Lesnar and the UFC had been discussing his potential return as early as four months prior to UFC 200. In fact, Lesnar was granted a waiver to forego the four-month testing period per the UFC citing exceptional circumstances.
Hunt believes that the UFC and White played the exceptional-circumstances card simply because UFC 200 was big business and Lesnar's participation would help them cement a $4.2 billion sale to WME-IMG, which was confirmed two days after UFC 200.
Alistair Overeem vs Mark Hunt"I want the UFC to understand it's not okay to keep doing what they're doing," Hunt told ESPN.com. "They're allowing guys to do this. They had a chance to take all the money from this guy, because he's a cheater, and they didn't.
"What message is that sending to the boys and girls who want to be a fighter someday? The message is, 'You just have to cheat like this and it's okay.' In society, if you commit a crime, you pay. Why is it different in MMA? It's hurt the business, so it's even worse. They need to be held accountable for this."
What Hunt has been asking for is a contractual clause that forces a fighter found to be doping to forfeit his or her fight purse to his or her opponent. Thus far, his pleas have fallen into silence.
It's no surprise that Hunt would be upset, not only because of the Lesnar case and the large amount of money involved, but also because each of his three most recent opponents and his currently scheduled opponent have all been found guilty of anti-doping violations.
Aside from Lesnar, Hunt previously fought Frank Mir and Antonio "Bigfoot" Silva, who were penalized for their anti-doping violations without any compensation to him.
Hunt is currently slated to face Alistair Overeem at UFC 209 on March 4 in Las Vegas. Overeem was pulled from a UFC heavyweight title fight in 2012 when an out-of-competition drug test revealed a 14-to-1 testosterone-to-epistestosterone ratio, which was more than twice the allowable limit at the time. The Dutch fighter served a de facto suspension of 9 months.
"I didn't want to be in this position," Hunt said. "It puts me in a weird spot because I'm still under contract."
So why would he agree to fight Overeem when he knew he would be filing suit against the UFC?
Hunt said that he turned down two fights in the months following the Lesnar bout, trying in vain to "make the UFC 200 situation right" and trying to get a clause in his contract that would protect him if future opponents were found to be doping. He accepted the Overeem bout because he was informed that he may be in breech of his contract if he continued to turn down bouts.
So now, Hunt is in the awkward position of fighting for the UFC while simultaneously filing suit against the promotion, but feeling that he has no other options.
"This was the last straw. I lost that fight, it ruined it for my fans. It wasn't good. I asked to get out of my contract, but I can't. I need to work like everyone else."
SOURCE: MMAWeekly.com