Cody "No Love" Garbrandt realizes dream by claiming UFC title
03.01.2017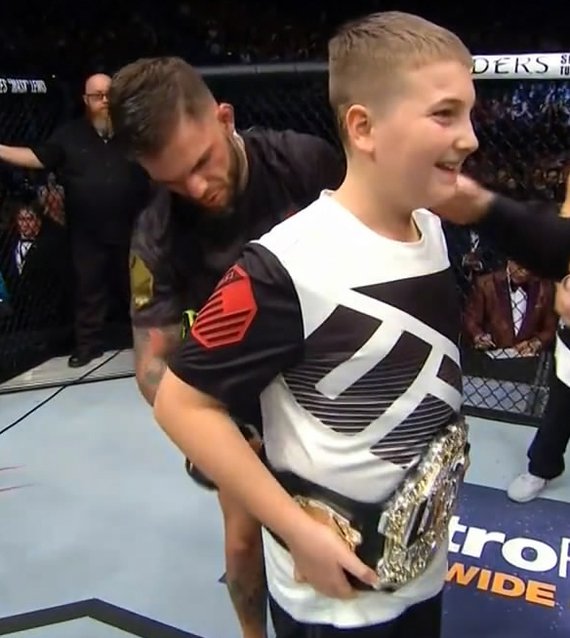 "Now I am the best in the world."
Indeed he is, as Uhrichsville native Cody "No Love" Garbrandt claimed the UFC Bantamweight Championship with a unanimous decision over now former title holder, Dominick Cruz, on Friday night at T-Mobile Arena in Las Vegas.
Garbrandt used precise striking, multiple takedowns and remarkable charisma to win over the judges, who all favored him by scores of 48-46, 48-46 and 48-47.
"I thrive in that environment" said Garbrandt post-fight when asked about all the trash talking leading up to the bout. "It\'s all I know, I don\'t know nothing else but fighting."
And fight he did from the opening round.
Garbrandt and Cruz traded several leg kicks in a rather entertaining first round as Garbrandt was showboating around the ring, enticing Cruz to come at him.
Garbrandt landed more shots and did more damage from the opening round as both fighters landed significant strikes in the first two rounds.
"No Love" turned the fight in his favor early in the third round during the exchange that opened a significant cut on Cruz\'s face.
Garbrandt put on a performance in the fourth round, repeatedly knocking down Cruz when he wasn\'t dancing away from the champion and dropped Cruz with two lefts and a right near the end of the round.
"No Love" then secured his unanimous decision with a strong fifth and final round to win the title.
After the fight, a touching moment took place when Garbrandt wrapped his title belt around the waist of Maddux Maple, a 10-year-old leukemia survivor from Uhrichsville, who has been his motivational inspiration.
Garbrandt\'s first title defense could be against T.J. Dillashaw, who dominated John Lineker in a unanimous-decision victory moments earlier at UFC 207, winning 30-26 on all three cards.
"Come try me!" Garbrandt shouted at Dillashaw afterward.