Exclusive: Mark Hunt suggests Brock Lesnar may be returning to UFC because he 'cheated to get title'
01.07.2016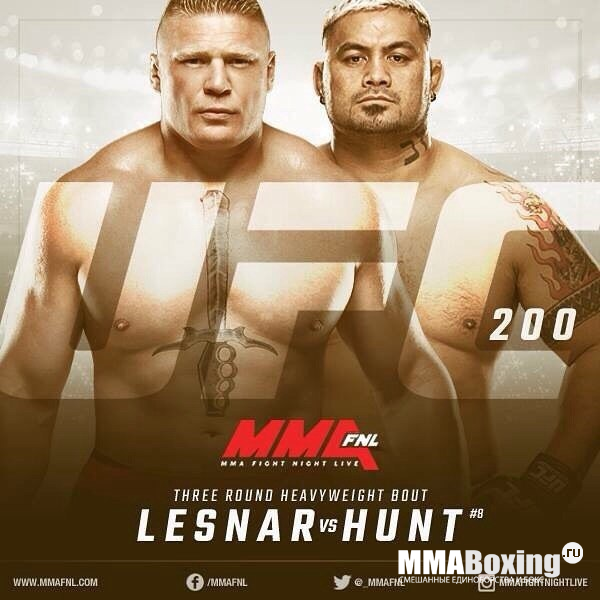 MARK Hunt has sensationally questioned Brock Lesnar's motivation for returning to the Octagon, suggesting the WWE superstar feels guilty because he "cheated his way" to the UFC heavyweight title in 2008.
New Zealand-born, Australian-based veteran Hunt will face Lesnar in a highly-anticipated co-main event bout at UFC 200 on July 10 (AEST).
It's Lesnar's first UFC fight in five years and Hunt — furious at the UFC's decision to waive its usual drug testing policy for athletes coming out of retirement — has already voiced concerns the American superstar will be "juiced to the gills".It emerged last week that Lesnar has already been tested five times by USADA since his comeback became public two months ago. However Hunt has described testing Lesnar now as a "waste of time" because he could have already completed a steroid cycle and tapered off in time to pass tests.
Lesnar has never tested positive for doping. He was arrested in 2001 for illegally possessing steroids but the charges were dismissed four months later.
"Super Samoan" Hunt has faced several proven drug cheats in his career and to say he's sceptical of Lesnar's cleanliness when it comes to doping would be an understatement.
Lesnar spoke of an "itch to scratch" when announcing his return, feeling a debilitating battle with diverticulitis defeated him in his last two UFC fights, but Hunt has questioned that motive.
"This is the reason why he's coming back. He's got an itch to scratch and that's because he doesn't know if cheating got him that title," Hunt told foxsports.com.au.
"Once you have the title and your're cheating, everything you've done you look back and say 'did I do that cleanly, or by cheating?' Well, only god and you know that.
"When I hang up the gloves and stop fighting … I'm not going to look back and say 'I've got to go scratch an itch' because I've done it clean.
"I've taken my poundings and given my poundings and I've done it walking a straight line. I haven't cheated getting to where I am today."
Lesnar is yet to respond to any of Hunt's doping comments.
OPPORTUNITY OF A LIFETIME
Despite Hunt's concerns around doping, there was never any chance of the 42-year-old knocking back one of the biggest fights in UFC history.
"Brock is such a huge name and sports star … as soon as you mention him everyone starts going crazy," Hunt said.
"He's done something I've never done: he's become a world champion, he's done it three times so that's amazing in itself.
"Whether he's done it cleanly, only he and god knows, but in the end, it's an opportunity I couldn't pass up.
"I'm always going to take opportunities when the come. Take it and think about it later."
HUGE PAY DAY
Lesnar has admitted he'll make a "boatload" of money from his UFC return.
"I can't disclose (how much) but there are lots of zeros behind it," Lesnar told ESPN.
Hunt, who recently signed a lucrative new six-fight contract with the UFC, will also enjoy a handsome pay day but insists it's not about the money for him.
"The money's good but I'm really interested in getting that title shot and that belt," Hunt said.
"That's all I'm interested in — ticking off another thing on my bucket list.
"My (fight earnings figure) probably doesn't have nearly as many zeros as his does. You need to have money to get by but I don't care.
"In the end, we're all going to be in the same box, in the same hole in the ground, without anything. It's not like when you're sick and dying you think 'I wonder how much money I've got in that bank?' It doesn't matter to me."
TITLE ASPIRATIONS
Hunt is currently ranked eighth in the heavyweight division after back-to-back wins over Antonio Silva and Frank Mir. While a win over Lesnar in what is effectively an exhibition fight isn't going to do wonders for his ranking, it would keep him fresh in the mind for future title fights.
"It's not going to be an easy fight but I'm going to try and knock him out, of course," Hunt said.
"When I go in there I'll give it everything I've got and that's all that matters for me.
"I want to knock him out, add him to my list and send him back to WWE."