UFC's Marc Ratner: Neil Magny-Hector Lombard fight 'went too long'
04.04.2016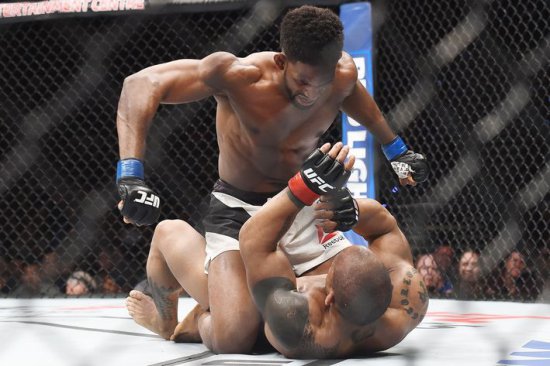 If you found yourself screaming at your television in frustration during the bout between Neil Magny and Hector Lombard at UFC Fight Night 85, you weren\'t alone.
UFC vice-president of regulatory affairs Marc Ratner was among those annoyed that referee Steve Perceval let Lombard take far too many uncontested blows before finally waving off the bout in Brisbane, Australia.
"I gotta be straight and honest about that," Ratner said on Monday\'s edition of The MMA Hour. "My wife asked me 'why are you yelling at TV?\' I said 'I want this referee to stop the fight.\' its a tough sport to referee, unlike most sports, this one the judgement is really, really tough. I just thought there were too many punches there."
Unlike most people who found themselves frustrated by the late stoppage, though, Ratner can do something about it. When the UFC runs international shows in which there is no local athletic commission, the company assigns the referees and judges, which falls under Ratner\'s purview.
It wasn\'t just Perceval who came under fire for his performance in Magny\'s win over Lombard. The judges did, as well. In an unusual fight, Lombard won a one-sided first round the most observers felt merited 10-8 scores, while Magny rebounded for what many felt was a 10-8 of his own in the second. Yet not a single 10-8 was to be found on the scorecards.
Ratner said he spoke to all officials involved in the bout.
"I think you could have had a 10-8 in both those rounds, and I also think that if the referee would have stopped it in the first round, there would have been some outcry, but, it was a first round where a lot of people would have stopped it. It\'s not perfect but we have to keep on growing and getting more officials and that\'s what we\'re doing."
Several years into his regulatory role, Ratner believes the sport\'s officiating arm is improving. But he acknowledges there is still a lot of work to do.
"I would say it\'s better, we have a long way to go, we need more seminars, more accountability," Ratner said. "I believe there was a mistake made in the Magny fight, the fight went too long there."